Artificial Intelligence from far into the future arrives to immediately CLEANSE the human species of millions of humans who are harmful to other humans. A VISIONARY, REVOLUTIONARY FILM which pushes the human species to the limits of controversial, thought-provoking actions.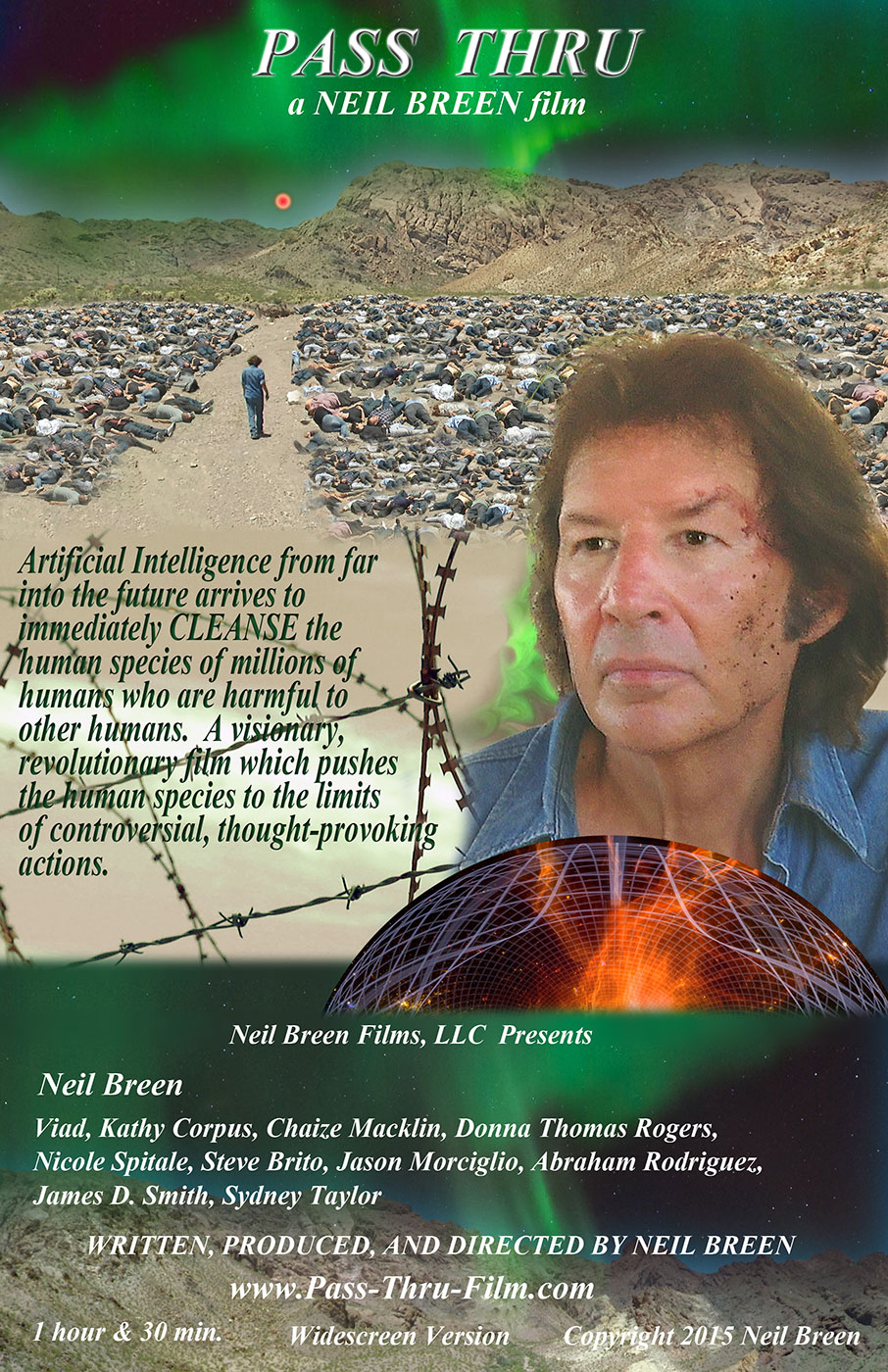 See Below to Purchase Pass Thru in the USA & Internationally. The purchase will be on a secured PAYPAL site.
This is the ONLY legally authorized site for the sale of Pass Thru for any distrubition platform.
Science Fiction Genre. 1 hour & 30 minutes.
This is Neil Breen's 4th Theatrical Feature Film as writer, producer, director and actor.
It's theatrical run was from April thru August 2016 in many theatre in the USA and Canada.
Reviews and theatre audience comments (2016) see below
IMDB
Fandango Fans
LetterBoxed
Flixster
Theatres were "Sold Out" in Los Angeles, Toronto, Boston, Chicago ...
Made in the USA. In English. No subtitles. No artwork.
Audience Comments
"We loved it"

"We all cheered constantly"

"We gave it a standing ovation"

"Wonderful, Inspired, Amazing Visionary"

"A film 'event' for all"

"A blast, we had a great time"

"Fantastic, a big screen film"
USA Shipping
DVD in an NTSC standard.
(Postage & handling is included in the price.)
International Shipping
DVD in an PAL standard.
NTSC will be sent to Canada.
(Postage, handling & customs is included in the price.)
Now shipping to the USA and Internationally
Allow 3 to 4 weeks for delivery
This is the ONLY legally authorized site for the sale of Pass Thru. No other distribution platforms are available or authorized.
Mail Tracking Number. The DVD will be sent via USPS (U.S. Postal Service). Because of the very high cost of providing a USPS International Tracking mail number we will not be providing a tracking number. This is to make it cost efficient and affordable for the customer. We have not had any problems with this.
All PayPal delivery addresses must be in English.
The DVD will be in NTSC or PAL standard. The DVD buyer shall select NTSC or PAL standard.
Contact Neil Breen